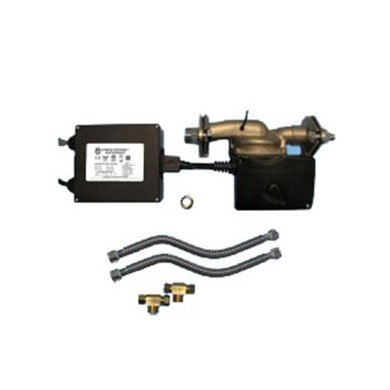 ---
---
Metlund Water Recirculation System
At the push of a button, the ACT, Inc. Hot Water D'MAND Kontrol Systems circulate the ambient temperature water in the hot water lines (water that is normally lost down the drain) back to the water heater. This occurs up to 80% faster than just letting the water run down the drain-the usual scenario. Depending on the plumbing layout, the route and time can vary. The D'MAND Kontrol Systems move the water rapidly, so that the hot water arrives at the fixtures before the heat is lost through the pipe.
As the ambient temperature water in the cold water line travels towards the water heater, the D'MAND Kontrol Systems fill the hot water line with hot water. When the hot water reaches the D'MAND Kontrol Systems, a thermal sensor (thermister) senses a temperature rise and quickly shuts the pump off. The sophisticated electronic circuitry that does this is attached to the high-performance pump housing.
This results in getting hot water to the fixtures three to four times faster (on average), greater convenience in not having to wait, a savings in water and energy, and a reduction in sewage costs!